Make Money Online Trading Tennis
US$ 45.83
---
Initial Language :
English
Sold & Fulfilled by
OnlineGames
---
Visit Site
If you're looking for a product/service that takes your money and leaves you to get on with learning on your own then you've come to the wrong place.
If you want a service that takes you through those tough early learning months and doesn't think that any of your questions are stupid ones then this is where you need to be!
I don't just sell you a Guide and I won't try to "blind you with science". Other services will try to trick you with fancy words and "magical" statistics.
Trading tennis is about common sense and hard work. I work with you for as long as you need to develop your trading. There is also a members' in play chatroom which many people find useful as we have a good mix of new guys (and a few new gals!) and experienced traders. It is a very friendly group who all try to help each other with tips and ideas.
Please read on for more detailed information.
"The website has loads of strategies and videos. A great introduction to tennis trading. Paul is always ready to answer queries or questions and give advice. Customer service excellent."
Tennis is ideal for trading

The tennis season lasts about 11 months of the year with the off-season being throughout December. Every week there is at least 1 tournament from either the ATP Tour (Men) or the WTP Tour (women).

ALL ATP and WTP matches are In Play markets on Betfair. This means you can place back and lay bets during the game.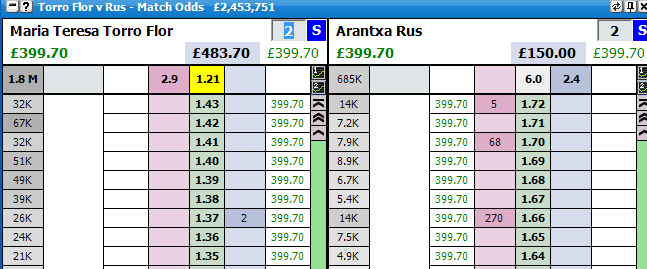 ***The purpose of the Guide is to help you to learn how the markets move. The best way I have found to do this is to break trading down into simple strategies. By using these strategies you wil become familiar with the tennis markets and be able to match your trading plan to the match situation***

The Tennis Trading Guide contains:
- 2 strategies suitable for new tennis traders

- Several other strategies to suit different match situations

- All strategies include a video of me using them for a profit

- General advice section on tennis trading

- Daily tips and summaries of upcoming matches. Email me if you want a summary of a particular match

- Unlimited email support and advice

- Members Only In Play Chatroom

- Player notes on the top 50 ATP and WTA players

- Statistics spreadsheets for all ATP and WTA players with FREE updates
All the information is delivered to you as a website. I have chosen to do things this way so it's easier for me to keep the site updated and also so that you don't have to pay for any updates as you do with normal ebooks!
To learn all the information that you get in my Trading Guide by trial and error will take you years.

Let me speed up your learning process by sharing my knowledge and guiding you through what will become an enjoyable hobby. In time it can become a worthwhile second income and maybe more.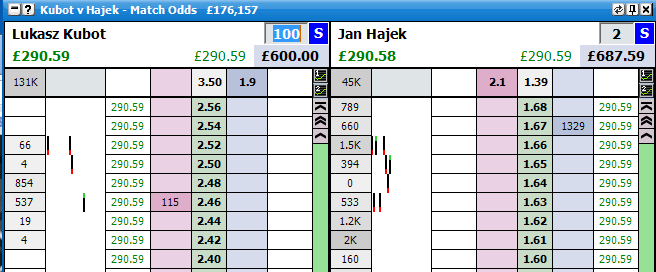 The green figure under each player's name is the profit if that player wins the match.
Beginner's Strategies
Included in my guide are two excitingly simple strategies that a beginner can use pretty much straight away. In these strategies I give you the exact point at which to enter a trade and the exact point to exit the trade. Also I have taken any decisions away from the novice trader with very basic, easy to follow instructions on what to do if the trade doesn't work the way we wanted. By following my very simple rules the risk to your trading bank is kept very small.

***the purpose of the beginner's strategies are to help you to get involved with the markets and learn how they react to what is happening on court. They are not intended to allow you to make a worthwhile income on their own***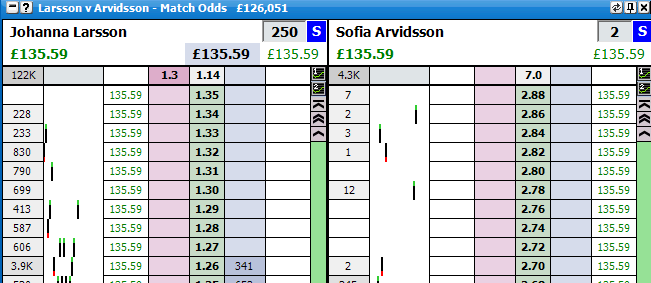 My guide to trading tennis on Betfair contains simple strategies that you can use to secure a profit regardless of who wins the match. If you're familiar with trading and "greening up" then you know what I am talking about. If it's new to you, you're in for a treat!

With each strategy I have included a video of me using the strategy so you can see how it works.
Something that is vital in any trading strategy is to know what to do when a trade goes against you. Included in the guide is a step by step account of how I manage this exact situation. I have also included a video of me using my "Halfs and Doubles" strategy for when a trade goes wrong.
Please be aware that I provide you with the information and strategies that you need to profit consistently from tennis trading. However you will need to put some work in yourself. This isn't a magic wand get rich quick system. To make good money consistently will take time and practice. To speed up that learning process you should make use of our free Trading Forum and Chatroom, especially during matches. I have laid down strict but basic rules that the experienced traders must help new traders. As a result we have a very friendly community with a good mix of new and experienced traders who are all willing to help
In addition to the strategies and tutorial videos you can email me directly to request an overview or advice on an upcoming match. I will respond to all emails personally.
You can also email me with any questions about Betfair trading in general.